Intoduction to Almaty: Walking City Tour​
It will start in front of the magnificent building of Central mosque, than we'll stroll along the streets to Green Market, try some local delicacies, after the market I will introduce you to the best examples of Vernyi architecture around Green Market
Dinner With Locals: Almaty & Shymkent
Dinner with locals is the unique chance to step beyond the realm of the average tourist and experience the local culture by going inside a real Kazakh's home for a night of delicious home-made meal! Make new friends, enjoy Kazakh hospitality and share stories.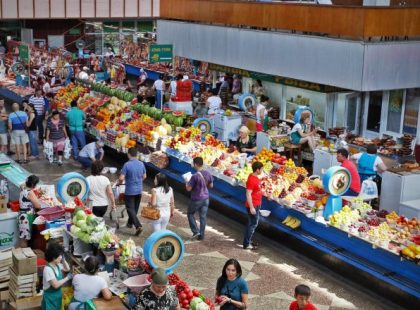 Green Market Food Tour in Almaty
Let's dive in into the aromas & flavours of the main market of the city! Let's discover the history of the country through the food & stories of the merchants of the Green Market! Let's be friends over cup of the locally roasted coffee, watching the busy market life from above! 
Almaty is a unique city with fascinating history, in 1997 it lost the status of the capital however this fact preserved the best examples of Soviet architecture. Let's go see and understand the heritage of the past! 
Shymkent is a city built at the intersection of the Great Silk Road. Here you can see the evidence of different historical periods: medieval Kazakh kingdom, Russian Empire, Soviet and modern Kazakhstan.

Dostar Trips is a travel agency from Almaty, Kazakhstan. We provide unforgettable travel adventures in a laid-back ambiance with friendly knowledgeable guides. 
I did multiple trips with Friendly Tours: a city walk, a hike in the mountains and a trip to the national park. I can only recommend them, they were super friendly and always eager to make the experience as great as possible. Evgenia was a great driver as well (which you need considering the state of the roads). Also, the guides speak English really well which helps a lot.