Duration: 5 days
Enjoy a leisurely 5-day tour around Almaty to fully experience the scenic beauty of south-eastern Kazakhstan. Feel the heat of a desert on a journey through the deep and remote Altyn Emel, immerse yourself into the millions of years of history at Charyn Canyon, hit the trail between stunning high-altitude Kolsai lakes & discover the mystery of the sunken forest at the icy cold Kaindy lake. Lots of hiking, lots of dusty trails, smoky tang from last night's campfire, unimaginable amounts of village food, tons of chats and laughter – it will be the best 5 days on your trip to Central Asia, we promise!
In Dostar Trips, we treat each of our guests as a friend we just didn't meet yet (btw "dostar" means friends from Kazakh). If you take a trip with us – you can rely on our friendly support during all your stay even after the tour, we will always be happy to help you with anything you need – advise the best place to eat, buy a train ticket, meet locals. Check out what our previous guests are saying about us on TripAdvisor. Let's be friends!  
Highlights:
Visit three national parks in five days
Climb to the summit of Aktau mountains (bottom of the ancient Tethys ocean) and be rewarded with the panoramic view of a lifetime
Take a road trip to the unique singing sand dunes that never move despite the constant strong winds
Spend your evenings stargazing and planet-spotting in some of Kazakhstan's best dark sky locations
Take the splendor of Charyn Canyon with a nice hike in the Valley of Castles
Enjoy breathtaking scenery of Kolsay lakes and ascend from the first lake to the second
Tackle a mystery of a sunken forest at Kaindy lake
Experience Kazakh cuisine and culture in a carefully selected guesthouse at Kolsai lakes
Day 1: Almaty – Singing Dune;
Day 2: Aktau & Katty Tau Mountains;
Day 3: Charyn Canyon;
Day 4: Kolsay lakes;
Day 5: Kaindy lake – Almaty. 
Hike and listen the Singing Dune, enjoy the view of Ili river valley 
We will have an early start today by picking you up from your hotel (or Airbnb) on an air-conditioned vehicle led by the super-experienced driver. Our guide will meet you at the lobby and you get to know your crew and hear about the adventure ahead.
Our way will wind to the north along the scenic drive away from the big city. You'll be soon be greeted by sweeping views of artificial Kapchagai lake – the last big ambitious Soviet project on the territory of Kazakhstan, it provides electricity to the whole region around. You will also be a bit surprised by luxurious casinos lined up along the highway. Kapchagai town is one of the two places in Kazakhstan where gambling is officially allowed.
It usually takes 3-4 hours to reach a hotel at Altyn Emel National Park, where we stop for a lunch and rest break.
It is time to take a driving journey through the remote barren Kazakh steppes to experience the first miracle of our trip – Singing Dunes. On the way, extra beady eyes may catch sight of the gracious black-tailed gazelle or Asian wild ass moving for the Ili river's drinking place. Arriving at the Singing Dunes learn how it is possible that dunes appeared in steppe vast area and, despite a wind, never moved from their place for hundreds of years! Never have climbed a dune before? Here we will have a lot of time for hiking, taking magnificent photos, and enjoy an amazing panoramic view of the valley around Ili – the main river of the region!
Coming back to the hotel, dinner, night at the hotel. 
P.S. if you are taking a trip to Altyn Emel in August, don't miss the opportunity to see numerous falling stars – it is far enough from any big city to enjoy the best dark sky in the region.
Day 2: AKTAU & KATUTAU MOUNTAINS
Hike at Aktau & Kattytau mountains and revel in the awesome panoramic view.
Fuel up with a hearty village breakfast and hop in the car for a lengthy (1,5 hour one way) scenic drive through a few rustic rural villages and infinite semi-desert valleys on the way to the mysterious Kattytau & Aktau mountains – a museum of the earth's distant past.
Fantastically-shaped natural sculptures rise in all the colors of the rainbow, from the pale blue Lunar landscape to the red Martian hills. These mountains are 30 km long, 1 km high – and 400 million years old.
We will show you the most epic hidden paths leading to the top of Aktau mountains to revel in the awesome panoramic view – on a clear day you can see the naked and boundless bottom of the ancient Tethys ocean in front of you for hundreds of miles! This is a moment to recognize how much a little tiny thing we are in this tremendous universe around us.
After the scenic hike, it's time for a relaxed picnic with the best view of splendid Aktau and drive to the next place to wander – Kattytau!
These mountains are formed by lava and some associated volcanic rocks. Time, water, and the sun have created intricate rock rarities here for us to explore.
Coming back to the hotel, dinner, night at the hotel in Altyn Emel. 
Explore different parts of Charyn Canyon
Breakfast at the hotel at Bashi village.
Kick-off your third day of travel to see the spectacular landscapes of Charyn Canyon. Throughout your tour, you'll learn about Charyn's history, geology, flora, and fauna. Enjoy plenty of rest stops and photo ops along the way.
Charyn Canyon National Park – time to explore this magnificent natural wonder! Marvel at dramatic rock formations shaped by the elements and time, and keep your camera handy for amazing photos. There's the time at leisure for exploring on your own at your own pace. 
Take a break from touring with a stop for a picnic lunch on a bank of the Charyn river.
Leave for another part of Charyn Canyon – Moon Canyon located 30 mins from the Valley of Castles, but with such a different landscape! 
Leaving to Satty village, which is the closest place to stay around Kolsay & Kaindy lakes. 
Arrival to the village, homestay with a local family, dinner, Russian banya.
Hike and scramble from the first Kolsay lake to the second through the spruce forest.
Wake up in the heart of the Northern Tian Shan mountains, enjoy breakfast at the guesthouse before starting the ascend from the first Kolsay lake to the second one.
Today's hike is a wonderful waltz of ascending and descending through the old spruce tree' forest, it'll take around 6-7 hours both ways (16 km, around 500 meters is a height between lakes).
The hike is great training for the whole body, so don't forget to bring comfortable hiking clothes and shoes!
Important: Please take an actual passport (not a copy) for hiking, cause the border with Kyrgyzstan is located around 10 km from the second Kolsai lake and you can be asked to show your passport by border soldiers.
In the afternoon we will have a well-earned picnic and relax time on the shore of the second lake. My favorite part of the hike I should say!
It's time to move back to the first Kolsay lake, after giving the last glance at the lake we will drive back to the Satty village.
Arrival to the village, homestay with a local family (very basic conditions), dinner. Overnight in Satty village.
Drive to the Kaindy lake and see the sunken forest.
The adventure comes to an end today as you treat yourself with your last breakfast at Satty village and depart to Kaindy Lake.
Unusual and mysterious Kaindy Lake (Birch Lake) is located at an altitude of 2000 meters above sea level. Kaindy lake was formed as the result of a huge landslide after the powerful earthquake in 1911. The landslide blocked the river and the water has flooded the valley. That is how appeared the lake with Tien Shan fir trees in the middle. The water of the lake is very cold, that is why the needles of the flooded trees are well preserved and clearly visible through the transparent surface of the water, and dry stems of fir trees overlook the water surface. It is impossible to describe in words all this mystical splendor of the lake – it is necessary to go there and see everything with own eyes.
The hiking today is fairly easygoing, but it's a long day with around 7 or 8 hours of driving back to the city.
On the way, we will stop for a lunch in one of the village cafes.  
Arrival at the city.
Optional: it is also possible to drop you off at the 'Karkara' border with Kyrgyzstan or give a drive to Karakol, Kyrgyzstan. Please contact us for details via e-mail.​
Optional: Please remember, there is always a great option for camping at desserts, forests, at the shore of mountain lakes – please write us where would you like to do camping instead of staying in hotels or guesthouses and we will change accommodation options! Bonfire is a bonus!
What is included:
Transportation – 4WD air-conditioned car

Accommodation (hotel in Altyn Emel, Chundzha and Satty village – shower & toilet inside of the room)

Food – 5 lunches, 4 breakfasts, 4 dinners.

Water – 1L per person per day

Tour-guide

All fees & tickets
What to take:
Comfortable shoes (better if it is a waterproof & with rubber relief sole)

Warm rain jacket (its possible to have some rain on the way to the second lake)

Hiking sticks

Sunscreen

Hat

Insect repellent
Photography from Slawomir Adamczak, Pawel Plocienniczak & Stephen Bridger
Book your trip to Kazakhstan with confidence: no deposits, total flexibility & full refund guarantee.
All prices are in USD
Number of people in a group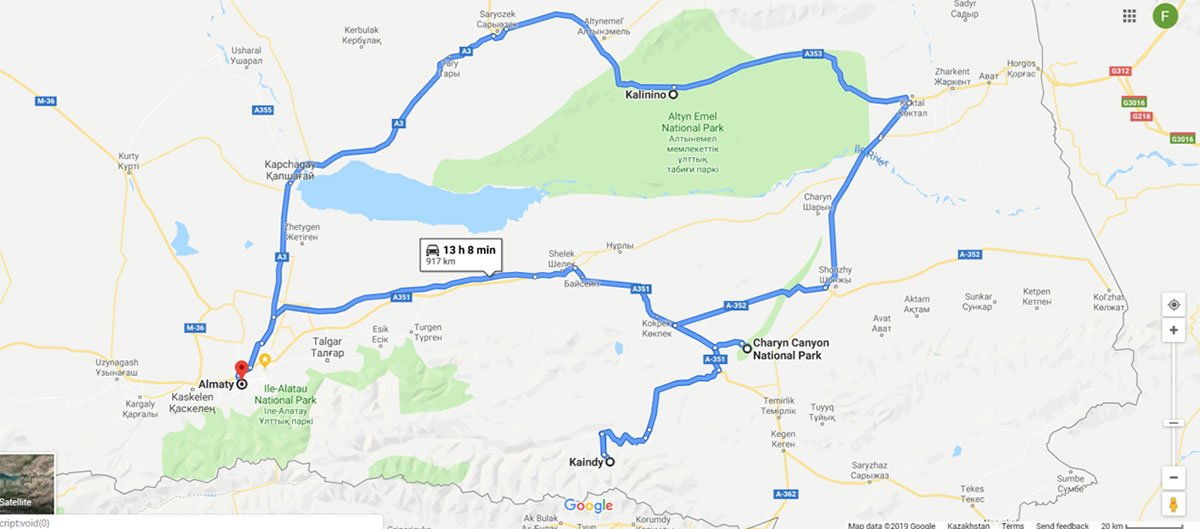 I joined a five day tour through the Altyn Emel national park, the Charyn national park and the Kolsai national park. The nature was very beautiful and fascinating with a big variety of different kind of landscapes, definitely worth being visited! Our guide Asel was very friendly and organised and explained a lot during the tour, her English and German were both very good. Our driver Galim was friendly as well (as far as I could understand him) and I always felt very save with him in the car. They both took good care of us throughout our whole trip. I was also picked up and returned to my accommodation at the start and at the end of our excursion.  All interaction in advance with the company owner Olya went very smooth and quick, also here the communication in English was very easy. Taken together, I had five wonderful days visiting Kazakhstan's amazing landscape and can highly recommend Friendly Tours to any person visiting the country!
Extremely recommended! We are a group of five who joined the Friendly Tour to play around the Almaty region. The representative of the company was keen on providing all the information we need which made them trustworthy. Our tour guide Dina and the driver are so amazing. I can say they are more than being responsible, they really made ourselves home. All the sites are stunning. We really had a fascinating experience around the region. With such a high quality of service they provide, the price they charged is definitely worth paying
Great company, stunning nature  We took the 5 day tour starting from Almaty and it was amazing. We saw incredibly beautiful nature, stayed with a lovely kazakh guest family, had a russian banja and learned a lot about Kazakhstan, its people and its culture. Thanks to our marvellous guide Konstantin we will for sure never forget this great experience. He was always very caring and we had such great conversations. We were also accompanied by a family from Slowenia who were great as well. Their daughter was such an energetic and positive girl that it was lovely having them around.  We can only highly recommend friendly tours to anyone who would like to experience Kazakhstan and its nature in the best way possible with staff who will take care of everything and still asks you for your wishes and preferences.
We chose a five day active tour to see the most natural wonders of southern Kazakhstan and we were not disappointed. On the opposite, the tour turned out to be memorable in all aspects. First of all I must mention Olya that really responded to all our e-mails in no time. Pick up was on time and everything on was running smoothly till the end. Such a shame we could not visit Kolsai lakes as the road was closed but we were immediately offered alternative programe.  Nature is beautiful beyond doubt but additional value to well organized tour was our guide Konstantin. Really intelligent and amusing young man provided us all information we needed and made our tour fun. One of the highlights of our tour was also the evening in Satty village with local family and russian banya. Also the couple from Germany that we were making the tour together was a great company you can only wish for. To sum up, we've been on many tours like this all over the world, but almost none turned out so well. So little team from Friendly tours keep up with good work.
After one day in Astana we took the night train to Almaty. Our guides picked us up at the Almaty train station and we started our day with a breakfast. During this tour we saw beautiful nature. From day one, we deeply impressed with Kazakhstan. Our guides guided us trough the country with enthusiasm and pride. Thank you for all the beautiful memories Vladimir and Constantin! Kind regards, the Belgian guys.
We booked a 5 day tour with Gaukhar from Friendly Tours to visit many of the natural wonders around Almaty: Altyn Emel NP, Charyn Canyon, Kolsai lakes and Käindy lake. The tour turned out great! Gaukhar did a tremendous job going the extra mile to meet us a day earlier in Almaty and walk us around the (really nice) town and had everything arranged, from a 4WD van with driver to packed lunches and good accomodation. All in all we saw all we wanted to see and then some, and it was more like traveling with a bunch of friends than an organized tour. The nature and unique, peculiar sites of south east Kazakhstan were amazing. Highly recommended!