It all started back in 2016 when we printed out our first edition of Friendly Map for guests of Almaty and offered our tours at the backside of the map. Suddenly we started to have a good amount of calls and messages and we decided to start a travel agency in Almaty, Kazakhstan. We didn't think a lot about the name – Friendly Tours as the next step after Friendly Map! 
2020 brought a lot of time to think and reflect, we loved our name and our guests did too but we always wanted to add a bit of authenticity and here we go – our name changed a bit: Dostar Trips! "Dostar" means friends from the Kazakh language, so our main idea didn't change at all – we always meet our guests as our best future friends! Honestly, we think what can be better than meeting people from all over the world and show the best places in our country? Best job ever! We would do it for free but if we are paid – woohoo, even better!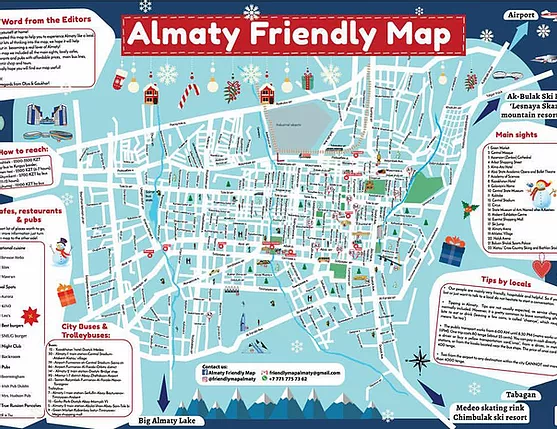 Dostar Trips is a travel agency from Almaty, Kazakhstan. We provide unforgettable travel adventures in a laid-back ambiance with friendly knowledgeable guides. 
Our Tour Operator License:
"I am very lucky – I do what I really love: meet new people from all over the world and share with them the best what my country has to offer such as astounding nature, finger-licking cuisine and, of course, people – the best part of any trip. During my own travels (mostly US & Europe) I understood that the long-lasting memories are created not by sights you visited, but by personal connections you make. So, almost all of our clients we meet during the tours somehow become our friends – and that is my favorite part of the work. I live and work in Kazakhstan all my life and still get excited by new places, new stories, and new routes I can show to my guests! So, I very much look forward to meeting and perhaps hosting you on a Dostar Trips adventure in the near future." 
"Hello, my name is Sabina and I will be your tour guide today! Nice to meet you!"
It all started with one trip to Serbia and Macedonia in 2016, it was like summer camp for Youngers. There I met many people from different countries. Locals were giving us city, wine, and party tours. At that moment, I did not realize that it would affect my life unconsciously. After one year, my friend from the Netherlands, Gwen, came to Kazakhstan. I was so excited and decided to make a personal tour for her. We visited the Expo exhibition in Astana, held a steppe eagle in Borovoe national reserve, spent a night with a sky full of stars in Charyn canyon, and had a local dinner with my family in my hometown Karagandy, traveled by train for many hours. Then I participated in the AIESEC Global Volunteer project in Ankara. For 6 months, I dived in Turkish culture by living with a wonderful local family, by tasting delicious Turkish cuisine, by speaking a little bit Turkish with my new friends, by exploring Ankara, Istanbul, and Bursa. 
When you far away from your motherland you are having a homesick. It was a cultural exchange, which gives an opportunity to spread knowledge about Kazakhstan to foreigners. It had been two years and I had not become working as a tour guide yet. One day, I started working as an administrator in one hostel in Astana. I liked my job because I had the opportunity to meet new people and "travel" without leaving my country by hearing stories from travelers and adventure seekers. On one of my night shift, a guest named Bill came to our hostel, we started to talk, and I told him stories about Kazakh culture and traditions. At the same time, Gauhar was staying at our hostel and she heard our conversation. The next morning, she offered me to try tour guiding in Astana. First thing, that came to my mind "Why not?" From getting a degree in economics and some travel experience, I have become a tour guide. By the way, Bill should not have to stay in our hostel at the first place; it was just an unexpected transit in Astana. In this case, one accident led to another accident and here I am writing about how I became a tour guide. Accidents are not accidental. From this moment, it became my profession, but more likely "dream job".